4 Ways to Prepare for Spring Storms
Between hail, rain, snow and tornadoes, spring weather in the Midwest can be wildly unpredictable, and you want to make sure your roof is prepared for anything. Here are four ways to make sure your roof is ready to head into the storm season.
Inspect Your Roof
To be in compliance with most homeowners insurance policies and help prevent general issues with your roof, you should inspect or have your roof inspected regularly. Seemingly minor issues can often lead to much bigger problems later on. Inspect any flashing to make sure it's completely sealed.  If you have shingles, make sure to have any that are worn, curled, missing or not nailed down properly repaired or replaced. Even if individual hail stones aren't that large, they can still erode the granules on asphalt shingles, which provide the protective coating on each shingle. Loss of these granules can make your roof more prone to leaks. Look out for any darker patches you see on shingles as they could be a result of granule loss.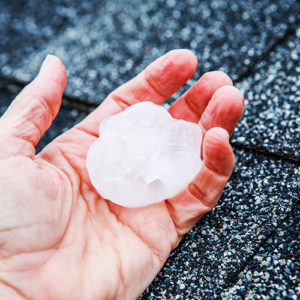 Tidy up
A big part of minimizing storm damage is eliminating any possible partners in crime. Clear any debris from your roof's valleys to prevent it from weighing on your roof or causing leaks. Clean out your gutters, or have them cleaned, so that they can properly channel water off of your roof and away from your home. Have any dead or overhanging limbs and branches from trees on your property trimmed back and remove debris from your property. Secure any patio furniture, or bring it indoors, as well as anything else that's likely to be picked up and tossed around by storm winds. To prevent ice dams from forming, use a snow rake to remove snow near your gutters.
Take Before Pictures
In the event that a spring storm does damage your roof, you'll want to have the necessary documentation ready when it's time to file a claim with your insurance company. Make sure you have photos or, better yet, have documentation from a recent inspection from a professional roofing contractor so that you won't have any issues proving that the damage is the result of a storm.
Call John Beal Roofing
The best way to make sure your roof is prepared to handle everything that spring throws at you is to call John Beal Roofing. The most thorough inspection requires spending some time on your roof, and we don't recommend you try to do that yourself. When you call John Beal Roofing, one of our expert contractors will come out and assess your property, identify any possible issues and provide you with a free quote for any work they recommend.