Commercial Flat Roofing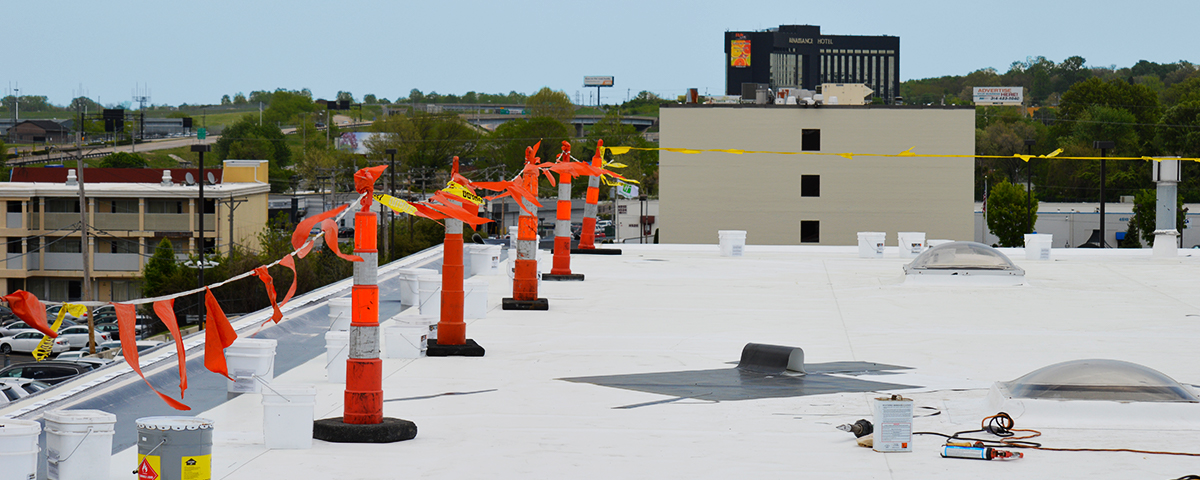 It's common for commercial properties to have flat roofs. A flat roof can be beneficial, such as providing a convenient place to keep your HVAC systems. But like anything that is beneficial, flat roofs also come with challenges. They are difficult for water and snow to escape your roof's surface, leaving them to puddle and pool. Without the proper roofing system to account for standing water, your property can develop some expensive problems down the line. This is where the qualified and experienced contractors at John Beal Roofing can be of service.
Of course, commercial flat roofing isn't entirely flat; there is frequently some degree of sloping, meant for water to escape. These types of roofs have what is known as a "low-slope," which offers the slightest of angles that aid the movement of water and refuse to the built-in drains. Low slopes are still very ineffective when compared to the peaks seen on most residential properties, and that is why they require special roofing systems that are designed for the types of conditions they are likely to face.
Commercial flat roofing systems can be divided into two groups: single-ply and multi-ply.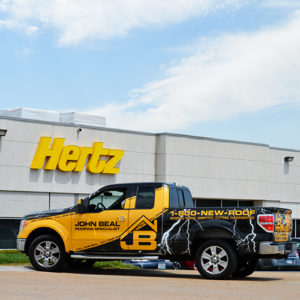 Here are a few of the single-ply options available to commercial properties.
EPDM (Ethylene Propylene Diene Monomer): a single-ply rubber roofing membrane, installed using an acrylic bonding agent. It is one of the easier flat roofing solutions to install, even for roofs with unusual layouts. Because it is easier to apply, homeowners save time and money during installation.
One disadvantage of EPDM is that its rubber surface tends to heat up in the sun, which can have a negative impact on the heating & cooling bill of the homeowner. This should be considered when the homeowner is considering which roof might be best for them.
PVC (Polyvinyl Chloride): another great solution for those with flat roofing. While more expensive than EPDM, PVC roofing is also more durable. This roofing solution is known to be able to withstand up to 300 pounds per inch, exceeding the industry standard of 200 pounds per inch by 50%. The strength of this material adds to it's lifespan. While other flat roofing lasts 15 to 20 years, PVC can last as long as 30 years! An incredible amount of time, given the damage inflicted on many flat roofs.
Another benefit of PVC roofing is that it is more energy efficient. PVC is offered in the color white, which can reflect the up to 78% of the sun's rays away from your home, rather than absorbing it like EPDM.
TPO (Thermoplastic Polyolefin): a flat roofing solution that has continued to grow in popularity since it was first introduced in the 1990s. It offers exceptional protection without breaking the homeowner's bank!
Made of rubber, ethylene, and propylene; TPO is bonded using a variety of fillers (such as talc or fiberglass). When combined, these materials make TPO one of the strongest solutions available to flat roofs. TPO is also offered in three different widths, thereby reducing the number of seams. The fewer seams, the less of a chance that water could find it's way into your home.
The average lifespan of TPO roofing is 15 to 20 years.
Along with single-ply, there are multi-ply roofs. They have a variety of benefits and challenges that may be useful to your commercial property.
Built-Up Roofing (BUR) is an older method of flat roofing but still remains very effective. BUR is often called "tar and gravel roofing" because of the materials used to make it. BUR is extremely heavy but is useful at protecting commercial flat roofing from heavy foot traffic.
Modified Bitumen is comparable to BUR, only it has two other substances added: rubber and elastomers. While the benefits of modified bitumen can be great, installing this roofing solution can also be a difficult and expensive process.
Silicon Spray is a spray coating, applied to the surface of your roof. It offers better leak protection and is easier to install than installing rubber or tar, but the materials used in this spray can also be quite costly.
If you're interested in the learning more about which commercial flat roofing might be best for your property, reach out to the experts at John Beal Roofing. We'll provide you with a FREE estimate, so you can make the the choice that will be most efficient for your commercial property. Our estimates also come with the John Beal Low Price Guarantee! If you can find a better quote anywhere, we'll match it or pay you $100! See offer for more details*