Commercial Roofing Company
Deprecated
: Function wp_get_loading_attr_default is
deprecated
since version 6.3.0! Use wp_get_loading_optimization_attributes() instead. in
/home/jbi/public_html/wp-includes/functions.php
on line
5453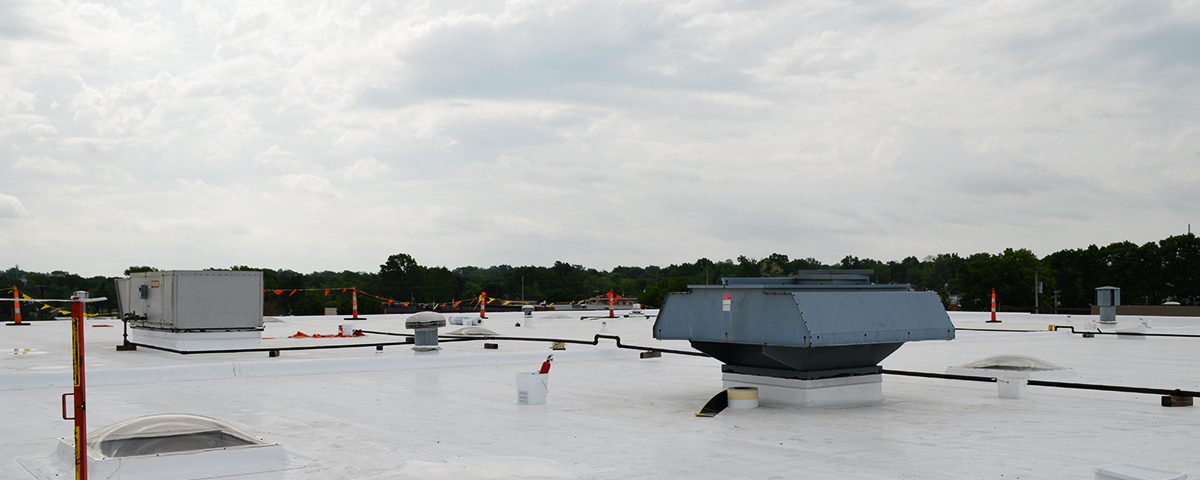 One of The Most Trusted Roofing Companies For A Reason
As the owner of a commercial property, it's important to protect the value of your investment. This means ensuring the property is in the best shape possible, not only for yourself but also for the satisfaction of those who may be renting space from you. To start, it's always important to find the right commercial roofing company in your area. Because whether you own a warehouse, office building, industrial property, or multi-family apartment complex; having a properly installed roof can make all the difference. Your commercial roofing system not only protects the roof itself; it protects everyone, and everything, inside of it.
When you contact the team at John Beal Roofing, we'll schedule a time to visit your industrial space and assess the needs of the roof. Is this project the result of damage or was it simply time for your business to have an upgrade? The answer to this question will play a role in what services will need to be done. While visiting your property, a John Beal contractor will examine the surface of your roof, as well as your entire property. We'll not only be looking at the building itself but the surrounding area, as well. We're always trying to think ahead to any problems that could arise in the future, noting any possible complications or hazards with your roof we might find through our services. If we see something that has the potential to affect the lifespan of your roof or its installation, we'll provide you with these notes upfront. Choosing to have new commercial roofing installed on your building is a big investment, so we want to make sure that you have all the information you need to make an empowered decision.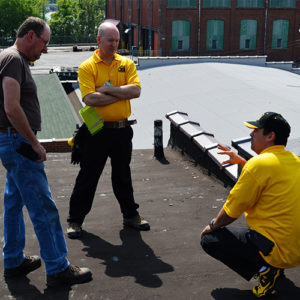 After assessing your roof, we'll sit down with you to discuss the specific goals or objectives you may have for your roofing project. At John Beal Roofing, it is always our preference to work closely with customers. The more our commercial roofing contractor knows about your needs, the better we can meet them! Our roofing contractors will talk to you about what roofing solutions are best for your space, as well as what's best for your budget!! We've been working with commercial roofs for years, so we're certain that with our expertise, our roofer can find the perfect solution to any roof!
Our Roofing Services Cover Many Roofing Types
Once our contractors have an understanding of your commercial roof, along with your budget and business goals, we can dive into the specifics and make recommendations on which services and roofing systems might serve you and your roof best! There are a variety of different roofing options for commercial properties, so it's important that you understand the Pros and Cons of each. Your experienced John Beal contractor will make certain that you do, acting as your guide. The roofing systems we work with for industrial properties include:
EPDM
TPO
Flat
Metal
Modified Bitumen
Why Property Owners Choose Our Business for Their Industrial Roof
With a roofing material chosen and your commercial property assessed with the best services, your John Beal Roofing contractor will then provide you with a FREE estimate. As one of the most trusted roofing companies around, we provide every one of our customers with a quote, backed by our John Beal Low Price Guarantee! Our word is our bond: if you're able to find a cheaper estimate of equal value, we'll match it! If we can't match the quote of our competitor, then we will pay you $100! See offer to learn more about our John Beal Low Price Guarantee! We'll make sure to take care of your replacement or repair and make the whole process feel effortless.