TPO Roofing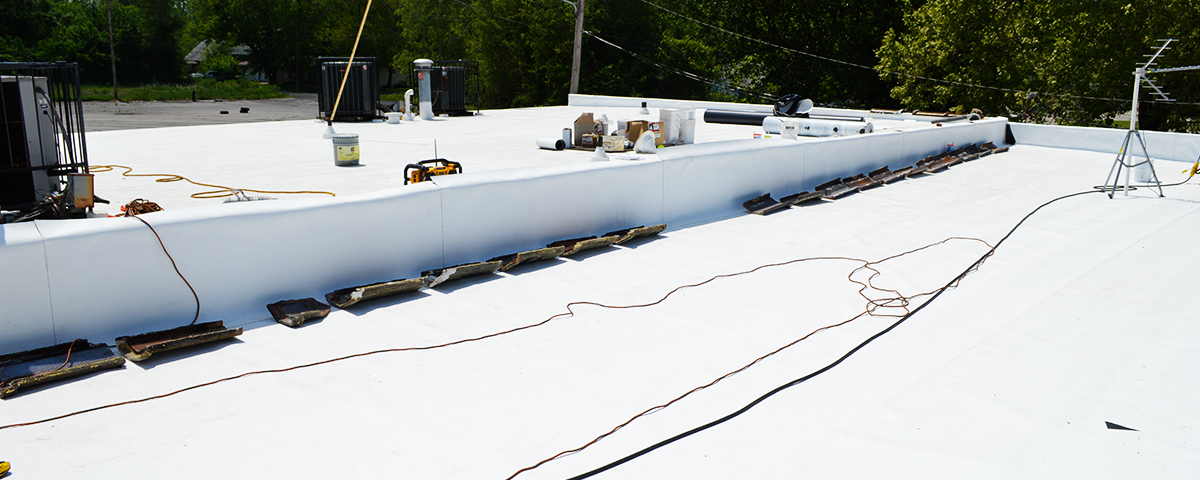 It can be a challenge to have a flat roof on your commercial property. Flat commercial roofs have to be ready to handle anything, across a number of weather conditions, without the benefit of peaks and slopes to direct water away from your roof, down to the earth below. These types of roofing solutions need to be able to withstand pooling water, heavy foot traffic, as well as the sun beating down on it. This is why TPO roofing is such a popular option for those with flat roofing.
The Benefits of TPO Roofing
TPO (Thermoplastic Polyolefin) roofing was first used in the 1990s. It offers the same benefits of heat-welded seams (much like PVC) at a price point that is closer to the affordable price tag of EPDM roofing. Like EPDM, TPO is made of rubber, but with the added elements of ethylene and propylene. These are bonded together with a variety of fillers (such as talc and fiberglass), making for a roofing system that withstands even the ugliest weather systems. In fact, the materials help make a TPO roof one of the most durable flat roofing solutions available for properties.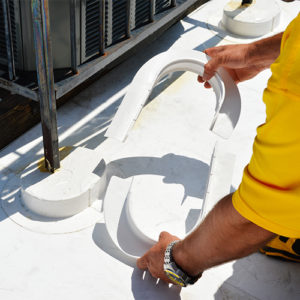 Another benefit of TPO roofing is that it provides one of the thickest top-plys available. As such, it is a good choice for commercial flat roofs that are subject to frequent foot traffic, while also reducing the need for constant maintenance. When you manage a big property, there are other responsibilities that need your attention. With TPO commercial roofing, you can save time spent taking care of your flat roofing and spend more time tending to what's important.
TPO is available in three sizes: 8', 10', and 12'. With multiple sizes, your contractor is able to provide you with a better, more custom fit: a roofing system that matches to the exact shape of your roof. This is also helpful in reducing the number of seams in your roofing system, making your flat roof much less vulnerable to leaks.
The average lifespan of TPO roofing tends to be 15 to 20 years. This is a lifespan on par with, if not better than, EPDM roofing. This is due, in part, to the way TPO is able to withstand the extremes of both hot and cold without cracking or splitting. This makes it ideal for regions in the country that experience all four seasons.
Another added benefit of TPO roofing is that it is eco-friendly. Since a TPO roof is 100% recyclable, it can reduce roofing waste. It's also chlorine-free, which can be toxic to Mother Nature. In this way, it's a roofing solution that not only makes you feel good, knowing your building is protected from nature; you can feel that you are protecting nature, in return.
Let's Start on Your Next TPO Roof Repair or Replacement
If you're ready to learn about the benefits of TPO roofing and how a flat roof replacement or repair can be applied to your property, reach out to the professionals at John Beal Roofing. We'll visit your property and help you to review all of the roofing solutions available to you, providing you with a FREE estimate at the very end. All of our estimates also come with the John Beal Low Price Guarantee! If you can find a better quote anywhere, we'll match it or pay you $100! See offer for more details*