Liquid Roof Coating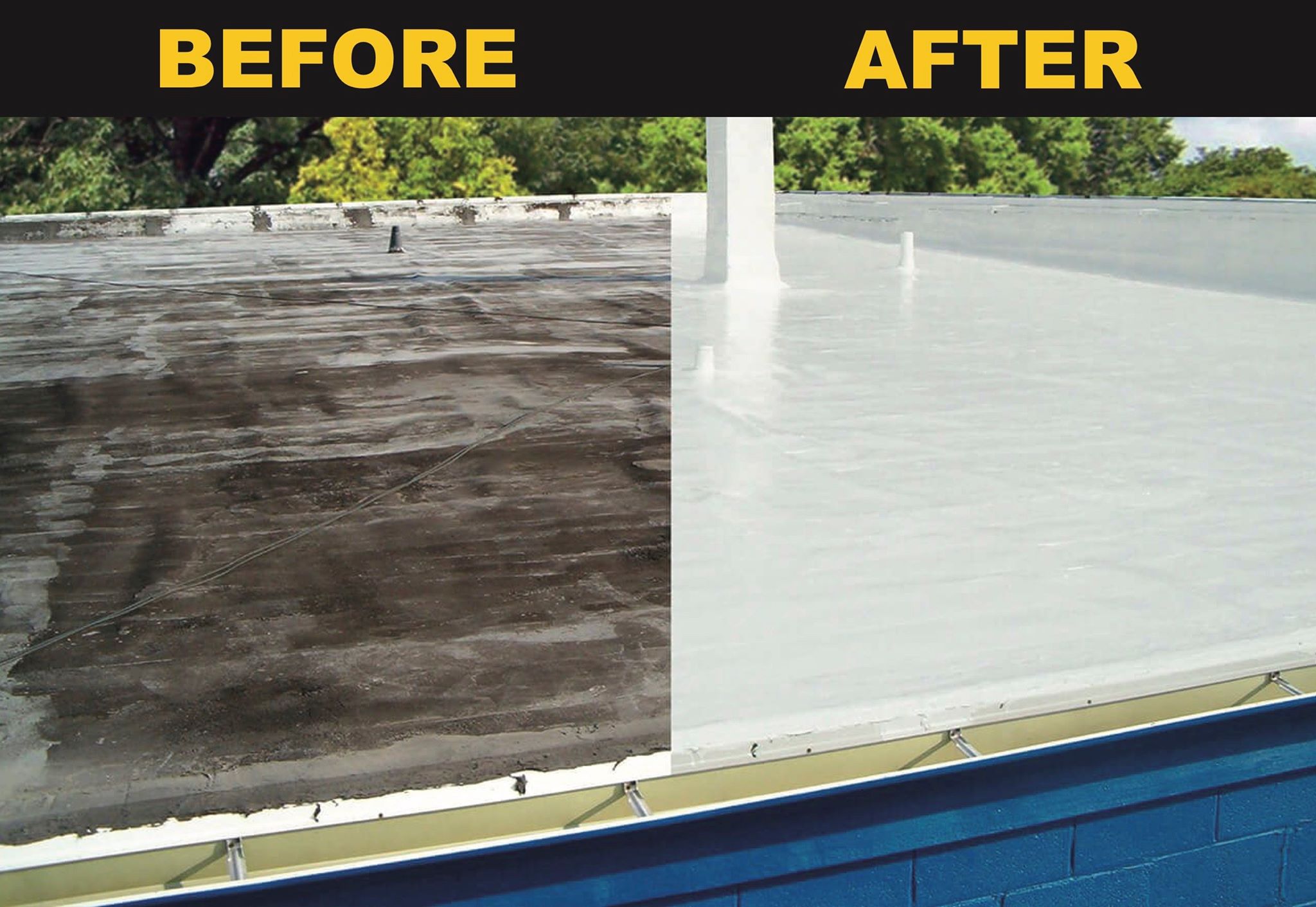 Poly-Sil Coating Systems Restore Modified Bitumen and Asphaltic Roofs
The application of the proper coating system can restore the function and extend the longevity of asphaltic-based roofing systems for many years. Smooth BUR's and all Modified Bitumen roofs are great coating candidates. With current budget pressures, proper coating makes sound economic sense. As all roofs age, the effects of weathering will include loss of flexibility, shrinkage, eroded surfaces and increased porosity. Expansion and contraction, due to the heating and cooling cycles of the roof, adds to these problems. Cool Roof Technology – reflective and sustainable coatings – will increase the roof performance and life. Coating & Foam Solutions has developed the coatings and the technology to rehabilitate most roofing systems.
Roof coatings come in a variety of formulations types, exhibiting a wide range of performance characteristics and initial cost options. Poly-Sil silicones deliver the ultimate in long-term roof coating value. Poly-Sil exhibits minimal degradation from UV light – a major destructive force for all organic coatings. Superior adhesion is created by stronger chemical bonds in the formulation of silicones. Silicones are inorganic and resist algae growth. By not holding a food source, they resist many of the destructive forces common with other organic roofing materials.
A "systems-approach" must be considered when restoring roofs – often numerous problems or deficiencies are found upon a thorough inspection and review of the roof. Primer is required to block asphalt migration ("tobacco-staining") and increase coating adhesion. Adhesion tests are always a sound recommendation. Sealants may be used to seal seams and flashings, which are no longer watertight. Fabrics and tapes are incorporated to reinforce the seams and coating in areas of expected movement. After this process, multiple applications of elastomeric coatings are applied to further seal and weatherize the roof.
Poly-Sil silicones offer a large window of application for roof installations. They allow for a longer roofing season, with a wide range of application temperatures. Poly-Sil silicones are not subject to freeze damage like all acrylic water-based coatings. And silicones are not prone to wash-off accidents from sudden rain showers. Supplied as a single-component product, Poly-Sil is easy to process and simple to apply with most high-pressure spray equipment or roller applications. Poly-Sil 2500 is a high-solids version that is VOC compliant, but maintains the ability to be sprayed – reducing project labor costs. The original version, Poly-Sil 2200 , has a high 69% volume solids. This product has excellent anti-slump (hangs on peaks) and coverage properties. The physical properties include elongation of over 260%.
Coating & Foam Solutions manufactures the entire Roof-Tek line including: silicone, acrylic and polyurethane coatings, surface primers, spray foam insulation, and accessories. Limited warranty options are available for applications completed by our network of Approved Applicators.
Discover the many benefits of Poly-Sil on your next roof restoration project. Poly-Sil has been trusted, and has its performance proven by more than twenty years of harsh, in-field experience.
*The Roof-Tek coated SPF systems have many credentials and ratings, please inquire regarding individual details.