Work with the Best Roofing Contractor in Ferguson, MO
John Beal Roofing is a reliable roofing contractor serving the Ferguson, Missouri area. With over 70 years of experience in both residential and commercial roofing, we have the skill and expertise to handle projects of all sizes. We offer several services including new roof installation, roof repairs, inspections, gutter installation, and more. Whether you're looking for a minor repair or a major overhaul of your property's roofing system, John Beal Roofing can help you get the job done right the first time. Our friendly staff will help guide you each step of the way and provide great customer service to ensure that your expectations are being met.
Ferguson Residential Roofing Services
John Beal Roofing is the dependable choice for all your residential roofing needs. Each project is completed in a timely fashion with our customers' best interest in mind. We offer top-quality services, from small repairs like shingle replacement and flashing repair, all the way up to complete teardowns and new installations. Our contractors have years of experience with many roof types, such as: 
We also offer a no-cost estimate with upfront pricing so that you know what to expect before any work begins.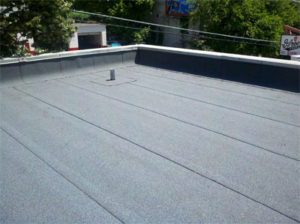 Ferguson Commercial Roofing Company
John Beal Roofing is the top roofing company for commercial roofing services in Ferguson, MO. Our team of professionals can install a range of roofs from shingle install to complex metal installations. We also offer custom solutions that are tailored to each business's needs. No matter your company's specific requirements, John Beal Roofing has the perfect fit. We work with the most popular commercial roof materials, including:
We provide exceptional customer service with punctual communication and timely solutions to any inquiries or issues that may arise. With John Beal, you can rest assured you'll receive a quality commercial roof at a price that fits within your budget.