Work with the Top Roofing Contractors in Overland, Missouri
John Beal Roofing is a highly reputable Overland roofing contractor that has been in business for more than 70 years. Working with John Beal Roofing offers several benefits, including access to experienced and skilled contractors, high-quality materials, strong warranties, and a commitment to customer satisfaction. We have a positive reputation in the Overland, MO community and a long history of satisfied customers, which is a testament to our commitment to providing quality roofing services. John Beal contractors are experienced with everything from minor roofing repair to full roof replacements. Our team is here to complete the job on time and on budget no matter your needs. By choosing John Beal Roofing, you can rest assured that your roofing project will be in good hands, and that you will receive a durable and long-lasting roof that exceeds your expectations.
Residential Roofing Company in Overland, Missouri
Residential roofing plays a critical role in protecting your home's structure from the elements. A professionally installed roof helps to keep your home dry, energy-efficient, and safe, while providing curb appeal. Neglecting your roof can lead to costly repairs and even structural damage to your home. We understand the importance of quality residential roofs and offer a variety of services to meet the specific needs of homeowners in Overland, MO. Our team has the skills and expertise to work with a variety of materials, including:
At John Beal Roofing, we work with you to learn your specific needs and budget, then recommend the best roofing solution for your home in Overland, Missouri. Whether you need a new roof, repairs, or maintenance, we're here to help you keep your home safe, dry, and comfortable.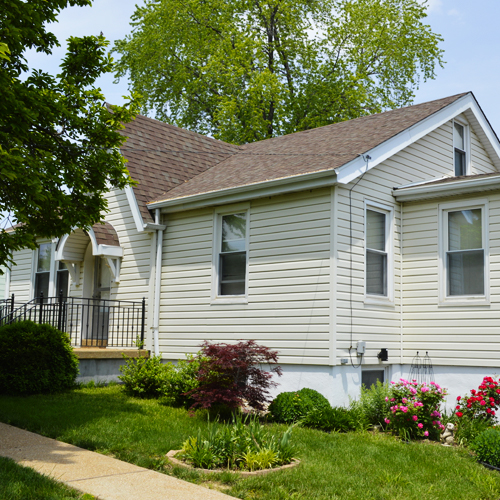 Commercial Roofing in Overland, MO
John Beal Roofing is a leading commercial roofing company that is fully insured and provides high-quality roof services to commercial customers. With our expertise, experience, and commitment to customer satisfaction, we are a trusted choice for any commercial roofing job. When selecting a commercial roof system, it is important to consider several factors, including the local climate, the building's design, and the intended use of the building. The contractors at John Beal have years of experience in commercial roofing, working with various materials such as:
With a focus on customer satisfaction and attention to detail, John Beal is a trusted roofing company for your business's needs. Contact us for a free estimate.